6 Steps To Reduce Your Identity Footprint
Posted on 2015-04-22 10:00:52
Earth Day is April 22, a time when many focus on reducing their carbon footprint. There is another footprint that deserves your attention—your identity footprint. Your identity footprint includes all of the personal data you leave behind. It includes digital data, but also your identity paper trail.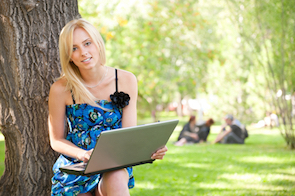 The reality is it doesn't take much—just a few key pieces of information--for someone to be able to create an identity. Key pieces of information may include your Social Security number and date of birth. It makes sense to think about how you can minimize your risk of becoming an identity theft victim by reducing your identity footprint. Some things are beyond your control. Here are 6 steps you can take to control your identity footprint.
See Your 2015 Credit Score Now.
Shred anything and everything
with personal information before you throw it away—even solicitations for pre-approved credit cards. Dumpster diving continues to be a prime way for thieves to get information, yet it's a simple risk to avoid. When in doubt, shred.
Carry fewer cards.
The fewer cards you carry, the less a thief will have access to if your wallet or purse is stolen. In particular, don't carry your Social Security card. Social Security numbers are like gold to identity thieves.
Pay attention to your bills.
Check your accounts online between statements. The sooner you stop identity theft in its tracks, the easier it will be to reverse the damage. So take a look at your accounts mid cycle. If your statements don't arrive on time, call the issuer. Better yet, go paperless to avoid statements going through the mail.
Beware of phishers.
People aren't always who they say they are. Scammers are good at pretending to be a reputable organization such as a bank or government agency. Phishing emails usually convey a sense of urgency to verify your information. They often include a link that directs you to a clone of a legitimate site that will capture your personal information and passwords. Do an Internet search to find the legitimate site for an organization. When in doubt, make a phone call—but not to a number provided to you in an email. Don't conduct personal business in public. Guard your privacy. You never know who is looking over your shoulder or capable of grabbing your information from an unprotected WiFi connection at a coffee shop. Never sacrifice privacy for convenience.
Limit social media exposure.
It's nice to keep in touch with friends through social media sites like Facebook, Twitter and Google+, but don't hand over pieces of your identity by posting personal information. If you wouldn't want a stranger to see it, don't post it. There's a good chance your Friends list includes many casual acquaintances or even some you don't know at all.
Improve Your Credit Score. Free Consultation. Proven Results. (877) 882-2256