Check Your Credit Report for These 5 Common Errors
Posted on 2015-07-22 09:00:30
If you think credit report mistakes only happen to others, it's time to take your head out of the sand. Credit report mistakes are common, and some mistakes can affect your credit score. The two best eyes for reviewing your credit report for accuracy are your own. If you've never looked at your credit report, change that today! Here are 5 common credit report mistakes to check for.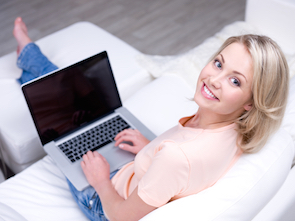 1. Incorrect Personal Information Mistakes in the spelling of your name won't necessarily affect your credit score, but it could if the mistake is because your identity has been confused with someone else's. If you find inaccurate information in your name, address or Social Security number, dispute it with the credit bureaus. You have the right to accurate personal information on your credit report. 2. Erroneous Accounts If your credit report lists accounts that don't belong to you, they need to come off—even if you think they are helping your credit score. Your credit report should reflect your credit history. You can never be sure when someone else's account may go delinquent. Accounts that are duplicated may appear harmless, but it can give the appearance of having more open credit or higher debt than you actually have. Clean up erroneous accounts by disputing them.
Your Credit Score Matters! See It Now.
3. Inaccurate Account Information
If you spot errors with your credit limits or the date you opened an account, dispute those items. Mistakes in these areas could affect your credit utilization ratio (the amount of available credit being used compared to your credit limits) or your credit history.
4. Closed Accounts with Wrong Reason
If you closed a credit card account, your credit report should indicate you are the one who closed it. If it says "closed by grantor," dispute that. An account closed by a grantor can negatively affect your credit score.
5. Old Bad Debts
Before you dispute old bad debts, know that legitimate bad debts will remain on your credit report for 7 years. After that, except for certain types of bankruptcies, they should drop off. Any debts discharged in a bankruptcy should not be listed on your credit report, but the bankruptcy itself will be. Don't let a mistake on your credit report keep you from getting credit at the best terms. Know what your credit report is saying about you, and dispute inaccuracies so your credit report is telling the right story.
Improve Your Credit Score. Free Consultation. Proven Results. (877) 882-2256